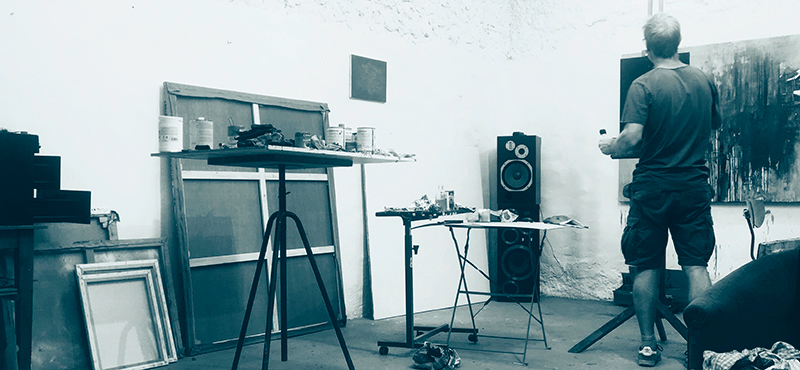 Né en 1974 à Andover, Royaume Uni.
Jonathan a fait ses études en Angleterre à la Chelsea School of Art, et obtenu son diplôme de Beaux Arts à la Brighton School of Art, University of Brighton, en 1998.
444 Words
We judge art (and the artist) by how the unique expressions and technical achievements come together in images meaningful to the viewer. Jonathan Lane's art is bare, he says, obscuring narrative. He thinks and paints in series, meaning each work is an episode, substantive in the singular but meaningful also in the collective. He does not paint portraits or the human form. Yet Jonathan is wrong about his work not expressing narrative: each series does tell stories – both for the artist and for the viewer – but they aren't necessarily the same.
Lane's works are filled with recognizable and unrecognizable forms. The artist uses skill, instinct and technique with a palette of closely related colors to move the viewer into recognition and reflection. His talent lies in taking the familiar – water, trees, mountains, and buildings – to render it unfamiliar through subtle and dramatic use of tones, often of the same colour. His study of the water of the Marseille Calanques marvels the viewer with the many different blues of the Mediterranean: its light blue spray, its marine darkness, and its troubled currents.
Lane's work promotes peace through lack of resolution. Any one of his pieces can be judged for expression and technical achievement. But seen together, as series, one sees his perceptive depth and range, recognizing his burgeoning trajectory as  painter.
His current work captures the regal beauty of trees, their complexity, their irreducibility; the way a tree stands unique, proclaiming something fundamental about the nature of the world.
The viewer wants to sit for hours with a Lane painting. Just as you think you have seen everything in a Lane canvas, its arresting balances of light and color, shade and tone draw you back in. A Lane canvas affords the viewer a return to the state we were once in when the familiar was still unfamiliar. To see through Lane's eyes – to see what he has translated into art – is to see something as familiar as a tree or water for the very first time.
Patrick Timmons, Ph.D.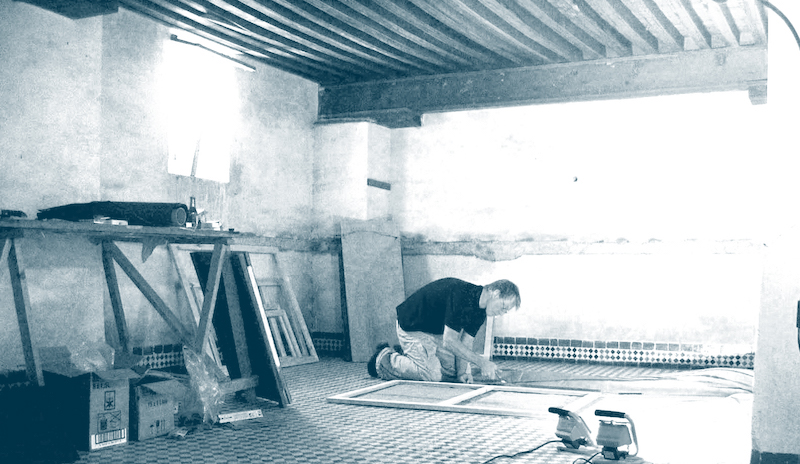 Le travail de Jonathan Lane prend ses racines dans la figuration : des croquis sur le motif vers la peinture, des esquisses vers le geste primordial de peindre. Partout où il a vécu, Jonathan s'est intéressé aux paysages qui l'environnaient. Après ses études, il s'est successivement installé des ateliers à Londres, à Trévise et à Barga en Italie, à Fès au Maroc, dans les Pyrénées et, plus récemment, à Marseille. Cette tendance à explorer le potentiel (d'un lieu) en termes picturaux se double d'un besoin de rendre son universalité, en étendant et en déformant le réel, pour arriver à en exprimer les valeurs essentielles, la lumière, la structure et l'atmosphère.
Expositions
"L'archive et le fantôme", Atelier Onze, Marseille, 2021
"Calanques", La Société Nautique, Quai de Rive-Neuve, Marseille, octobre 2014
"Moving Mountains", Galerie Le Pré au 6, Paris 7e, juin 2013
"A fragile world", 37, Endell Street, Londres WC2, sep.-oct. 2009
"Répétitions – avec Branford", Maison Guichard, Marciac, août 2008
"Maiden Voyage", 2 Ganton Street, Londres W1, fév. 2008
"Fès, intime", Galerie Orientaliste, Fès, Maroc, juil. 2007
"Selected Recent Work 05-06" – 34 Marshall Street, Londres W1, sep. 2006
"Between two landscapes" – 44 Monmouth Street, Londres, nov. 2004
"Garfagnana'04" – Galleria Comunale, Barga, Italie, mai 2004
"Senza Confini" – groupe, Galleria Comunale, Barga, Italie, déc. 2003
"Go Venice" – Ealing Gallery, Londres W5, oct. 2002
"The City" – groupe, Whitechapel Contemporary, Londres, nov. 2001
"London, The Square Mile" – Ealing Gallery, Londres W5, oct. 2001
All images on this site are under copyright.  Studio images PLF: Edwige Lamy. Studio Images AAD: Edwige Lamy, Olivier Monge, J. Lane
Painting Photography: Philippe Cas, J Lane