Plastic Forest
From January to March 2020 I collected wood, the right amount; branches of different sizes fallen from trees in different locations.
The branches are now a part of the studio, in my processes and rituals, they are lying around me. Their presence permeates the studio and its work, and creates a life-line to the natural world. Artefacts/Objects to study and digest perhaps, or simply to sense. They are a gateway.

Français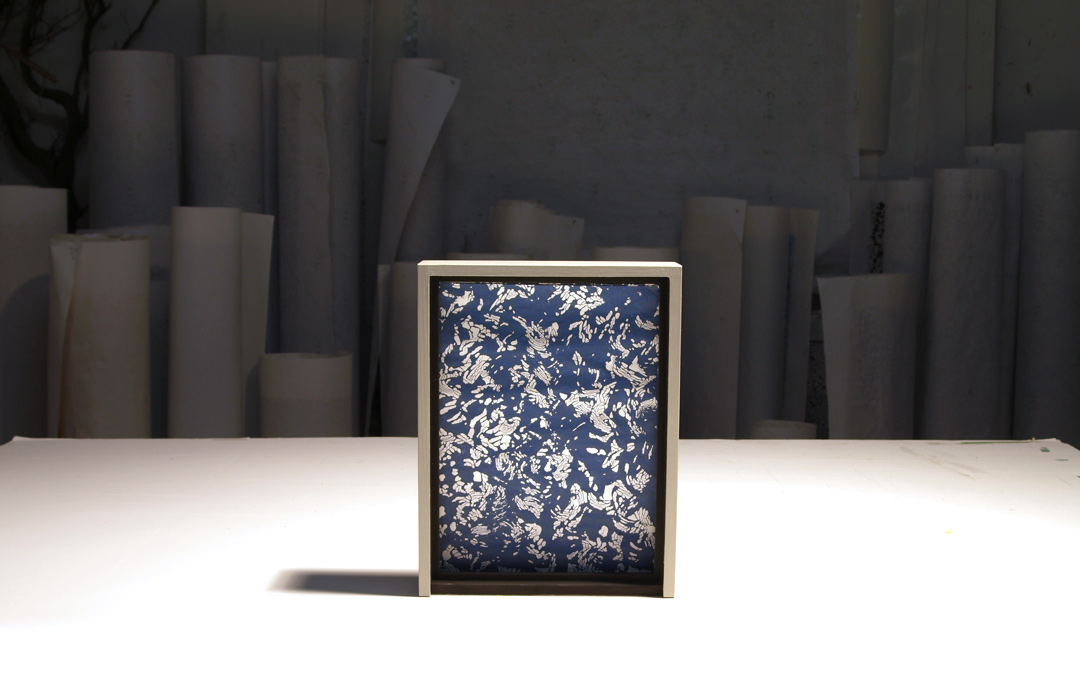 The archive and the phantom
Exhibition of works from the Plastic Forest series
02 – 06 October, 11am – 7pm
07 – 10 October, by rdv only
The paper I paint on was never meant to support art work. It is essentially lining paper with a release agent on one side, the side I paint on; it has already served an industrial function. I am giving it new life, at odds with logic.
I am making paintings and removing them. They are momentary, temporarily whole. I do not destroy them: they are archived, then disassembled and stored.
From the digital file of each work I create a unique print, precise in scale. I call these prints 'Ghosts'. I think of these ghosts as documents, recordings of the painting process. They are created posthumously once the paintings are in boxes.
This is how I record and integrate the pandemic.
Each phase of this process contributes to manifest a single point: that this is a time of change, and a time for change. The paintings are gone but I find them again, through photographic and digital treatment. They are in a sense phoenix-like: the end of something and a beginning. The promise
of new and different things to come.
Provocation
Not encountering the paintings directly and experiencing them through these transformations is just as we experience much of life: through a filter, through a field of interpretation.
I believe the Ghosts can facilitate a meditation of sorts, a moment without time; drowning out noise, finding a kind of peace in a restless vision; coming from a work practise in harmony with discord.
Acrylic, Plastic
After years without, I am using brushes again. Brushstrokes are not patterned yet are cyclical, systematic, mimicking clockwork movements perhaps and echoing the paper's previous context. The process is indifferent to any conscious, aesthetic mark making, the whole painting being in essence one gesture. This is a bustling, gestural, trance-like interaction with the surface.
The reaction as paint touches surface is explosive; the acrylic colours move as the paper rejects them and they struggle to migrate, but must settle somehow. The time taken for the paint to settle mimics the microscopic motion of vegetal growth. It is a moment of poetry, chaos and an alchemy,
a metaphor for photosynthesis.
There is no intended entry or exit point to these paintings. There is no point of focus nor premeditated composition. How I end these paintings is how I start them.
I am unable to say with confidence that I'd have undertaken such a project if it weren't for the respect and faith I have in Philippe, who is archiving and printing. I've learnt from working alongside Alex on the AAD series what a force collaboration can be. We are stronger together.
Philippe Cas, artist in his own right, has followed this project from its conception. He understands what I'm trying to achieve and knows the work inside out. I am not simply having someone make documents,
I have an ally.